Uncover a New Layer of Skin with Gentle Exfoliation and Relaxing Resurfacing.
Our Hydrafacials use patented technology to cleanse, extract, and hydrate. Nourishing ingredients can create an instantly gratifying glow and frequent treatments can restore your skin to its healthiest state.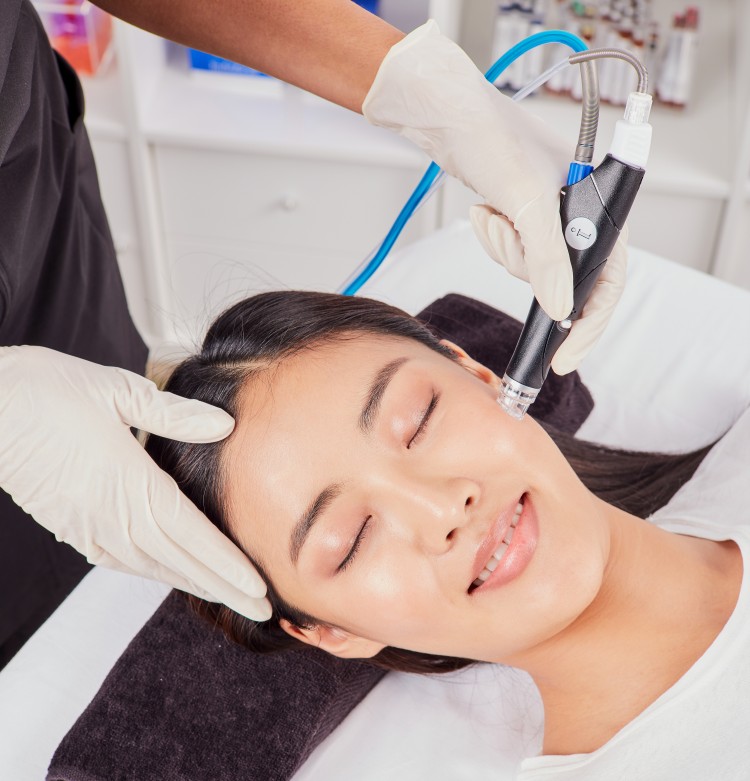 The Best Skin of Your Life
We uncover a new layer of skin with gentle exfoliation and relaxing resurfacing. This will help us remove dead skin cells and excell sebum from your skin.
We clean out your pores of any blackheads, dirt, and other impurities with a painless suction. Then we nourish your skin with powerful quenching moisturizers.
We saturate your skin's surface with antioxidants and peptides to give you a bright, plump, and clear complexion. Helping you maximize your glow.
Tailor your hydrafacial treatment with our super serums that address your unique individual skin concerns.
Alleviate signs of aging and recharge your skin with a combination of peptides. Smoothing out the appearance of fine lines, wrinkles, and enhancing skin elasticity
Mitigate the appearance of fine lines and winkles to restore the health and vitality of your skin by boosting collagen and elastin production. Removing and toxins in the process.
Minimize the appearance of dark spots and sun spots for an even complexion. Britenol can help brighten and balance your skin tone for the glow that you deserve.
30-MIN DELUXE HYDRAFACIAL
Deeply cleanse and hydrate skin through our super serums filled with antioxidants, peptides, and hyaluronic acid.
3 Treatments (10% Savings!)
6 Treatments (20% Savings!)
12 Treatments (25% Savings!)
45-MIN SIGNATURE HYDRAFACIAL
These invigorating treatments include all of the essentials of the Signature HydraFacial while addressing specific skin concerns through HydraFacial's booster add-on and LED Light Therapy.
3 Treatments (10% Savings!)
6 Treatments (20% Savings!)
12 Treatments (25% Savings!)
Blue LED light can be used to target and disrupt acne and bacteria while red LED light can be used to provide a finer finish to your skin, targeting wrinkles, rosacea, and sun damage.
RELAXING HYDRAFACIAL EXPERIENCE